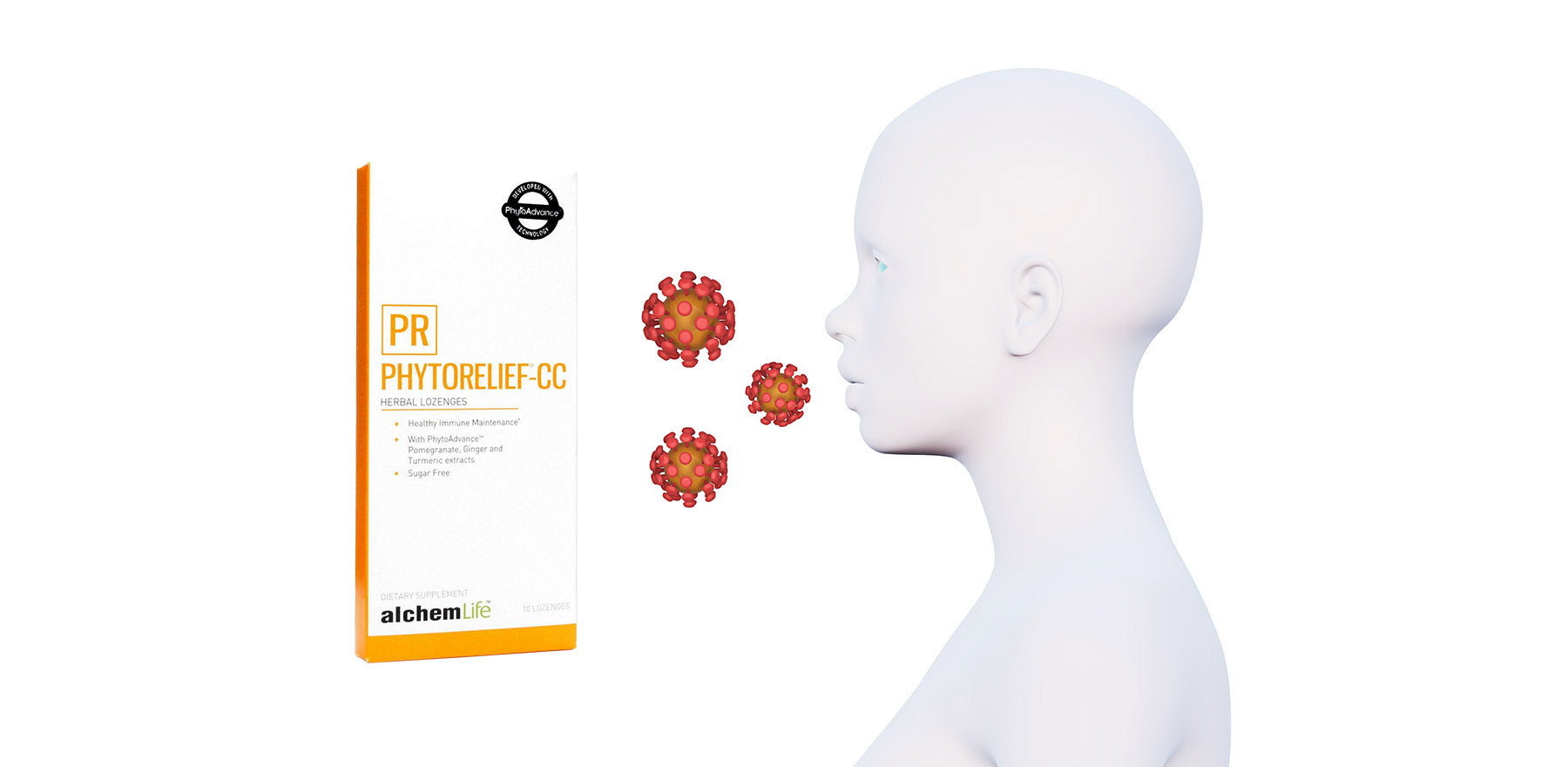 How PhytoRelief-CC Could Help Reduce the Spread of Covid-19
Are virucidals an effective tool against COVID-19?
The COVID-19 virus has dominated nearly every aspect of our lives for more than a year. Lockdowns have been costly and ineffective; communities and health departments have struggled to stop the spread of the illness. Hospitalizations for severe cases quickly become expensive and prolonged, with some cases sadly ending in death.
These types of viruses incubate in the mouth and salivary glands, and once they multiply enough they can spread to other organs like the lungs and respiratory system where they can inflict a lot of damage. Viruses in the mouth are easily spread, and the use of products that kill oral viruses has been mostly overlooked in the fight against coronaviruses. Some studies have now been done to see how oral virucidals might help reduce the transmission of COVID-19. What if there was a way we could safely stop coronavirus in its earliest stages?
How oral virucidals work
Antivirals are drugs or compounds that are used to treat viral infections. Most are targeted to specific viruses, and some are broad spectrum to combat many different ones. Antivirals don't kill viruses outright, instead they work by inhibiting their development.
Oral virucidals (virus killers or deactivators) are commonly made from plant extracts, like eucalyptus, tea tree oil, and pomegranate. They can be used very safely in the "border" body parts, like the nose and mouth, to control the growth and spread of viruses.
Research shows virucidals change tests from positive to negative
Research has shown how five oral virucidals affected the presence of COVID-19 in the mouths of patients. The test subjects tested positive with PCR mouth swabs for COVID-19 on day 1, but were asymptomatic or had only very mild symptoms and were otherwise healthy. They were divided into groups and each group used one of five oral virucidal products, four times a day for three days. During the study, the subjects ate a normal diet, used vitamin C, and adhered to measures like physical distancing, hygiene, and masks if necessary. They tested again on day 3 and the vast majority of the patients tested negative. None of the patients developed further infection and all remained asymptomatic during the study. What's even more encouraging is that the researchers didn't see any side effects.
The five effective virucidals
-PhytoRelief-CC
PhytoRelief-CC is a natural lozenge meant to be dissolved in the mouth. One of its main active ingredients is pomegranate extract, one of nature's most powerful antivirals. It also includes turmeric and ginger, compounds known to be antiviral and anti-inflammatory. 
-Benzydamine
This is an NSAID (non-steroidal anti-inflammatory drug.) It is a hydrochloride salt solution that comes as a mouth rinse or spray. Benzydamine also contains anesthetic for pain relief.
-Baicalin
Baicalin is an herbal powder supplement with a long history in Chinese medicine. It works by inhibiting the production of inflammatory cytokines (proteins that activate and control cells) in the immune system and is an antioxidant.
-Eucalyptus extracts
Eucalyptus extracts have been widely used during the COVID-19 pandemic and have become the model for safe virucidals for respiratory diseases. Calyptol is a eucalyptus-based inhalant that quickly eliminated the presence of the virus in the study participants.
-Aldiamed
This is a gel liquid used for dry mouth symptoms, but showed long-lasting viral suppression in the study. Ingredients include glycerin, sorbitol, aloe, and xylitol.
Why PhytoRelief-CC performs the best
While all the virucidals were effective, PhytoRelief-CC showed the longest-lasting results, probably because of its slow release mechanism. The lozenge is designed to be dissolved slowly, and in the study its effects lasted more than 3 hours. The combination of three strong antiviral compounds gave PhytoRelief-CC an edge over the single-compound products.
Additional benefits of PhytoRelief-CC
In two other clinical studies, PhytoRelief-CC was shown to help in preventing colds and flus. The groups that took PhytoRelief-CC as a preventative measure had:
43% fewer cold episodes, and one study group had a 70% reduction
42% reduction in duration of colds
59% fewer sick days off work
41% reduction in medication use
In another study involving immunocompromised patients (from chemo and radiotherapy), the group that used PhytoRelief-CC enjoyed:
56% fewer colds
53% reduction in other treatments
18% fewer sick days from work
11% reduction in cold duration
The three main components in PhytoRelief-CC are pomegranate, turmeric, and ginger. Pomegranate extract is antiviral and antimicrobial. It contains zinc, which has been used in combination with vitamin D for treating COVID-19 infections. Turmeric, a source of curcumin, is anti-inflammatory and has been used for thousands of years in Ayurvedic medicine. It is useful for improving the immune system. Ginger, the medicinal spice, is another anti-inflammatory and antioxidant. It can strengthen the immune system and helps with cold and flu symptoms.
An immune-boosting supplement like PhytoRelief-CC is a fantastic way to help fight off colds and flus before they can take over your body. It is gluten free for those who cannot tolerate wheat, and also has no added sugar. It's a natural product with no known side effects, and even safe for those with compromised immune systems. It can be used on a daily basis. Not just a virucidal, it's also anti-microbial, anti-inflammatory, and an analgesic (pain reliever.)
Why choose oral virucidals?
In the virucidal study, none of the patients experienced any negative side effects from using the oral products. All five virucidals resulted in a large decrease in the number of positive tests after three days.
Researchers have learned that they could find COVID-19 RNA in saliva before it was found in the lungs. This would point to the salivary glands being a growing area for the virus. But not much attention has been paid to treating the mouth and salivary glands during the pandemic. This could be a window of opportunity for health professionals to add a very useful tool to their arsenals.
Virucidals could be an extremely effective way to not only slow the spread of COVID-19, but reduce the number of cases that become severe. By stopping the growth of the virus in the mouth, it may prevent the spreading of the virus to the lungs and airways. Killing the virus in the early stages could be be easiest and cheapest method of control. It could prevent many cases from progressing to advanced stages where they are much more challenging to treat. The benefits are twofold: the individual patient is protecting their respiratory system, and their ability to be contagious is greatly reduced. A single method that works to prevent both internal and external spread would be an important step in curbing the transmission of COVID-19 and other viruses.
Virucidals are very affordable and available in several forms that are easy to use for most people. You can get them without a prescription. When the goal is to kill viruses before they cause trouble, oral virucidals deliver results at a fraction of the price and lower doses than many other options. They can be taken as a preventative and as an early treatment in the case of a positive test.
Oral virucidals are safe and economical. They are a simple and effective way to lessen the risk of becoming sick from COVID-19. They also work to reduce the chances of spreading the virus to those around you. Combined with a healthy diet, active lifestyle, and good hygiene, oral virucidals like PhytoRelief-CC could help us finally get COVID-19 under control. 
Medical & Clinical Journal 2020 study results comparing the use of 5 virucidals in patients with positive COVID-19 tests. All products drastically reduced the number of positive tests after 3 days, with PhytoRelief-CC showing the largest decrease.
 About the Author:
Learn more about Dr. Ledoux.
----------------------------------
References
1. "2019 Novel Coronavirus (2019-nCoV) Situation Summary" (2020) Centers for Disease Control and Prevention. Med Clin Res, 2020 https://medclinres.org/ Volume 5 | Issue 5 | 79
2. "Real-Time RT-PCR Panel for Detection 2019-nCoV" (2020) Centers for Disease Control and Prevention.
3. "Curetis Group Company Ares Genetics and BGI Group Collaborate to Offer Next-Generation Sequencing and PCRbased Coronavirus (2019-nCoV) Testing in Europe" (2020) Globe Newswire News Room.
4. Xu J, Li Y, Gan F, Du Y, Yao Y. Salivary Glands: Potential
Reservoirs for COVID-19 Asymptomatic Infection. J Dent Res.
5. "The definition of virucide" (2017) Reference.com.
6. US EPA, OCSPP (2020) "List N: Disinfectants for Use against SARS-CoV-2". US EPA.
7. Boyce JM, Pittet D (2002) Healthcare Infection Control Practices Advisory Committee, HICPAC/SHEA-APIC/IDSA Hand Hygiene Task Force. "Guideline for Hand Hygiene in Health-Care Settings 51: 1-45.
8. Sauerbrei A, Wutzler P (2010) "Virucidal efficacy of povidoneiodine-containing disinfectants". Letters in Applied Microbiology 51: 158-163.
9. Luzzi R, Belcaro G, Pellegrini L, Cornelli U, Feragalli B, et al. (2015) Phyto-relief CC: prevention of cold episodes. Control of signs/symptoms and complications. Minerva Gastroenterol Dietol.
10. Horhammer L (1928) Hager's Handbuch der Pharmazeutischen Praxis. The Journal of the American Pharmaceutical Association 17: 318-319.
11. Sodeik B, Griffiths G, Ericsson M, Moss B, Doms RW (1994) "Assembly of vaccinia virus: effects of rifampin on the intracellular distribution of viral protein p65". J Virol 68: 1103-1114.
12. Schnitzler P, Schön K, Reichling J (2001) "Antiviral activity of Australian tea tree oil and eucalyptus oil against herpes simplex virus in cell culture". Die Pharmazie 56: 343-347.
13. Belcaro G, Cornelli U, Cesarone MR, Feragalli B, Bombardelli E, et al. (2020) Spread of Respiratory Viruses: Temperature and Physical Environment. Temperature Control May Exploit Virus Hypo-Thermolabity; A Possibile, Immediate Solution for COVID-19. Med Clin Res 5: 30-33.
14. Belcaro G, Cornelli U, Cesarone MR, Feragalli B, Bombardelli E, et al. () Possible, Immediate Solution for COVID-19: A position paper. Temperature control may exploit virus hypothermolability. ASIA PACIFIC BIOTECH NEWS 24: 01-05.
15. Belcaro G, Cornelli U, Cesarone MR, Feragalli B, Bombardelli E, et al. (2020) 7 Immediate Strategies to Control the Coronavirus. Exploiting Viral Thermolabity. Possibile, Immediate Solutions for COVID-19. SSRN Electronic Journal.
16. Brito C (2020) Report says coronavirus pandemic could last for 2 years. CBS News.
17. J Xu, Y Li, F Gan, Y Du, Y Yao (2020) Salivary Glands: Potential Reservoirs for COVID-19 Asymptomatic Infection. J Dental Research.
18. Belcaro G, Cesarone MR, Cornelli U (2020) La Prossima Edpidemia. Minerva Medica, Turin.
19. Belcaro G, Cornelli U, Cesarone MR, Faragalli B, Cotellese R, et al. (2020) Decrease in Covid-19 Contagiousness: Virucidals Control the Presence of Covid in Saliva and Salivary Glands. Med Clin Res 5: 1-4.