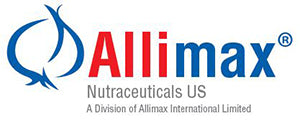 About Allimax
Allimax Nutriceuticals US is a trusted brand that specializes in providing top-quality, innovative, and scientifically-based nutraceuticals to support your health and well-being. With a focus on harnessing the natural power of allicin, the active compound found in garlic, its products are designed to deliver exceptional health benefits.

At Allimax Nutriceuticals US, they are passionate about creating products that are backed by cutting-edge research and formulated with the highest standards of quality and purity. Allimax sources its raw materials from carefully selected growers and manufacturers, ensuring that only the finest ingredients are used in their formulations. Their patented extraction process retains the potency and integrity of allicin, providing you with the most effective and bioavailable form of this powerful compound.
The Allimax product line includes a wide range of supplements, including their flagship Allimax capsules, Allisure AC-23 liquid, and topical creams, all containing allicin as the key ingredient. Allimax formulations are carefully crafted to address various health concerns, including immune support, cardiovascular health, digestive health, and more. Whether you're looking to boost your immune system, support healthy cholesterol levels, or promote overall wellness, their products are designed to help you achieve your health goals.