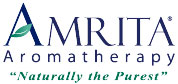 About Amrita Aromatherapy
Amrita Aromatherapy was created back in 1989, based on founder, Dr. Christoph Streicher's, extensive education and training in biochemistry, physiology, and Ayurvedic principles. His studies focused on the connection between plant vibrations and human consciousness which led him to a mentorship with the French essential oil expert Jacques Paltz.

In addition to the wealth of knowledge going into Amrita Aromatherapy, the company is dedicated to maintaining an exceptionally high standard of purity by testing each of their 140 oils using gas chromatography. Amrita Aromatherapy is also the largest supplier of organic essential oils in the country as well as a USDA Certified Organic Business.

With Amrita Aromatherapy, you'll find a unique line of aromatherapy products that stretches well beyond traditional single oils and oil blends. Dr. Streicher pours his passion and experience into his essential oil formulas, creating unique products that care for your mind and body, inside and out.