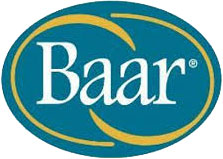 About Baar Products
When Bruce Baar founded Baar Products 1986, he wanted to offer innovative health solutions in natural health care and beauty products as well as providing alternative therapy solutions for healthcare professionals.
Mr. Baar has a Bachelor of Science in Business and Economics, a Masters in Health, and a Doctorate in Naturopathy. With his extensive educational background, he and Baar Products have created many products with high quality ingredients while maintaining great prices for their consumers.
One of their most renowned products are their Castor Oil Pack therapy kits. Baar's Castor Oil Pack Therapy kits have been mentioned in several books such as What Your Doctor May NOT Tell You About Premenopause by Dr. John Lee MD, The Physician Within You by Dr. Gladys Taylor McGarey MD, The Wisdom of Menopause by Dr. Christiane Northrup MD and The Oil That Heals by Dr. William McCarey.
One of Baar's most recent acquisitions is Iodex®, an antiseptic salve that has been available for over 100 years. Iodex® has been added into Baar Product line of natural vitamin supplements, called Nature's Blessing™.
Baar Products is also the official worldwide supplier for Edgar Cayce Health Care. Influenced by Edgar Cayce Readings for help with asthma, Mr. Baar created Inspirol® Herbal Breathing, an aromatherapy product.
Baar Products has over 130 acres of land in Pennsylvania and Tennessee. These acres are used to plant woods grown herbs and wild plants for many of their products.