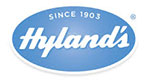 About Hyland's
Hyland's was established in 1903 by George Hyland. George Hyland was a pharmacist. Hyland's is a manufacturer of homeopathic medicine. Hyland's products are created with the fundamental belief that the body has natural defenses to help the body heal.   
Hyland products are not herbs, but are instead made with natural active ingredients, no drug interactions and non-habit forming, are free of most side effects and can be taken by anyone, ranging from infants to elderly. Hyland's is known for Hyland's Leg Cramps, which many athletes, including marathon runners have used to help their body during physical activities. 
Hyland's manufacturing facilities follows FDA regulations and follows  the manufacturing and quality practices outlined in the Homeopathic Pharmacopoeia of the United States as well as Good Manufacturing Practices (GMPs).