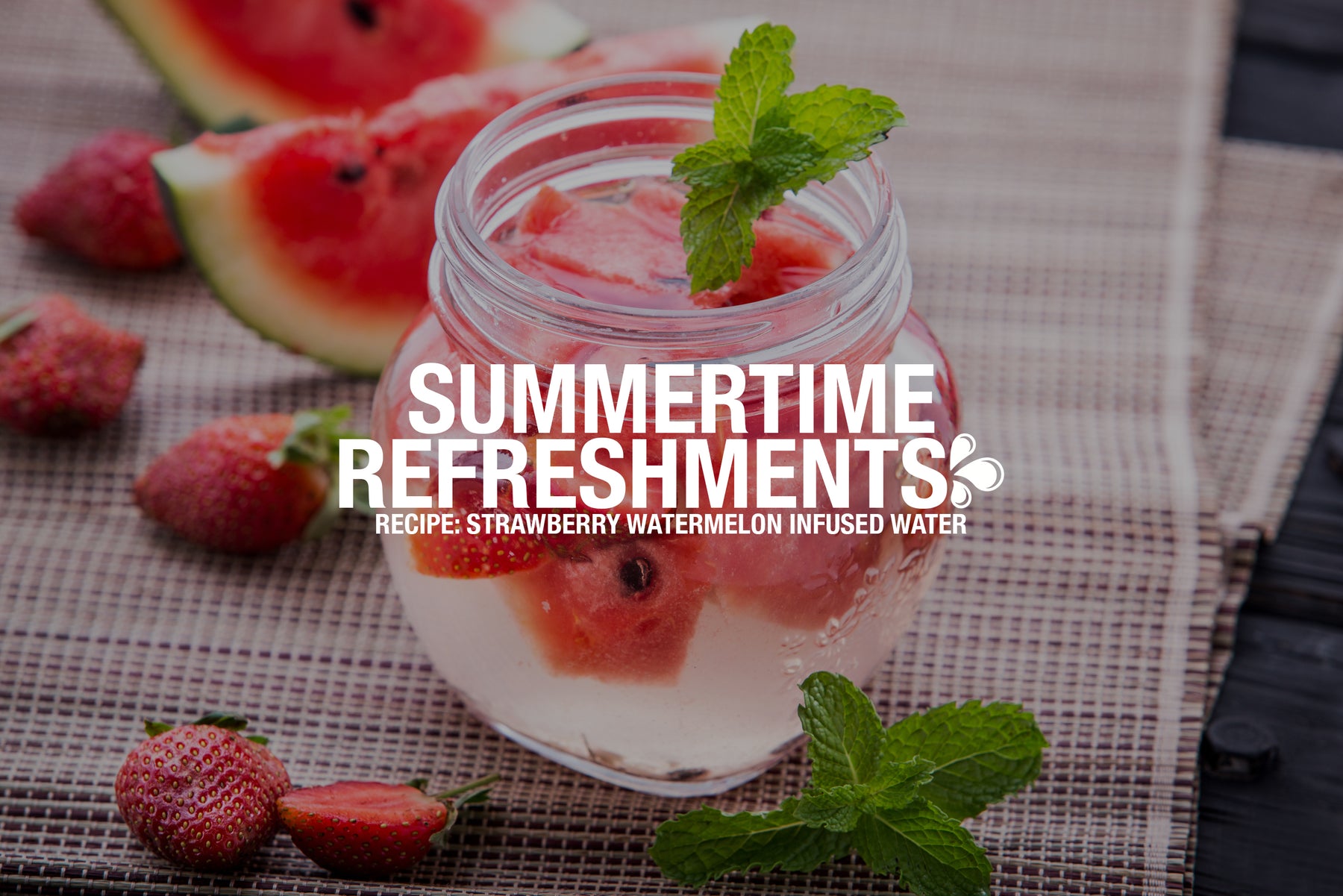 July 11, 2016
Dr. Ron Ledoux DC, CCN
Summertime Refreshments: Strawberry Watermelon Infused Water
Looking for a refreshing summer drink? Maybe something a little different, but also healthy? You should try infused water. It's easy to make and there are endless varieties you can try. All you need to do is take fruits, vegetables or herbs and let them soak in chilled water to make a delicious, refreshing and healthy summer drink.
What is infused water exactly?
This isn't the same as squeezing fruit into your drink. The flavor is more subtle but also can be tangier due to the fact that you are also getting the flavor from the rind which adds a different level of flavor. It also has much less fructose and calories making it even healthier.
Create your own!
You can customize your infused water for flavor and for health benefits. Using cucumber, lemon and mint creates infused water that helps your liver and kidneys, Combining ginger, lime and pear also has a cleansing effect. Cucumber, jalapeno and mint create water that helps with digestion and bloating. You can also go purely for flavor with something like grape, strawberry and lime or mango and mint or even orange and grape. You can also use strawberries, raspberries and blueberries in any combination with other fruits. If you want a good infused water that will help you rehydrate after a workout? Try watermelon infused water. Not only does it taste great but watermelon has natural minerals like calcium, magnesium and potassium that replenish your electrolytes and help you recover post work out. There aren't any specific "rules" about what you can infuse and how much you need per liter of water. You can play around with it and find the ratios that you enjoy the most. It's also a great way to use up the left over fruit, veggies and herbs from another recipe.
Infused water has become so popular that there are personal infused water bottles as well as water jugs available now. They are great at keeping the fruit and vegetables contained so you can guzzle the water without them getting in the way. But you don't need anything fancy at all to create a delicious infused drink. Just put the fruits and veggies in any water container and leave it chilled for anywhere from 15 minutes to overnight.
Infused waters are great for parties as well. You can use them instead of the usual iced tea if you like. Just toss the fruit in a large jug with a spout and watch it disappear.  
Strawberry Watermelon Infused Water
Ingredients:
2 slices of watermelon

1 lime

½ pint of strawberries

1 large pitcher of ice (typically 60 oz.)
Directions:
Continue to slice the 2 slices of watermelon into cubes and the lime into thin slices. Add plenty of ice and refrigerate for 2-4 hours to completely allow for all ingredients to infuse. This will allow for the maximum amount of flavoring to be added to the water. After 2-4 hours, stir and strain to remove all solids (the amount of straining is dependent upon preference). Only thing left to do from here is to enjoy your healthy and delicious refreshment.
Depending on the ingredients, 1 pitcher will typically stay fresh up to 2 days when refrigerated.